THE ANGON CANYON
Certainly one of the most beautiful canyons in the Haute Savoie, the Angon canyon is defined by its huge 60m waterfall and its exceptional setting above lake Annecy. Once this waterfall has been descended, other less significant abseils follow and alternate with jumps and slides (of which the celebrated 'letter box'!
THE MONTMIN CANYON
This is an aquatic canyon with an always reliable waterflow that has created a fun route with slides and jumps of upto 7m in an abundant setting. There are next to no abseils in this playful canyon.
This PACK of 2 canyons provides a day that is sporty, fun-filled and unforgettable!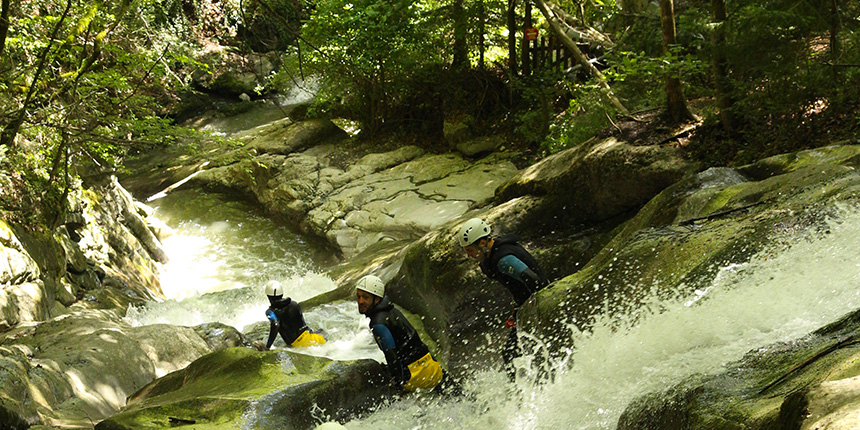 Completed in its entirety, this canyon is ideal for those who have tried and loved canyoning already, are comfortable with abseiling and looking for more sensations! The idyllic setting of lake Annecy, the scale of the waterfall, the sounds and the variety make this canyon a reference in the Haute-Savoie.
Manu's opinion of ANGON
Here is a playful canyon made for fun!
Manu's opinion of MONTMIN
The meeting point:
Just after Talloires in the direction of Faverges, leave the D909a onto a small road on the left which crosses the village of Angon. Park in a large carpark on the left, a little after the bridge.
WHAT TO BRING :
A swimsuit
Sport style trainers - these will go in the water (not beach shoes)
A hair elastic - for tying back long hair
A change of clothes
WHAT'S PROVIDED?
A 5mm neoprene wetsuit in 2 parts
A pair of 5mm neoprene socks
A helmet
A harness