"The best canyon in the area"
The Nyon canyon is the most varied and the most complete in the Chablais. You will encounter many jumps and great abseils, as well as natural slides and even a tunnel for the most brave! Everything canyoning has to offer is found here! The water level is constant throughout the season allowing us to enjoy the canyon from June to September! The descent of this very fun canyon just outside of Morzine, ends in a beautiful 22 metre waterfall. This waterfall is an attraction in its own right and admiring spectators watch the canyoners from the viewing point.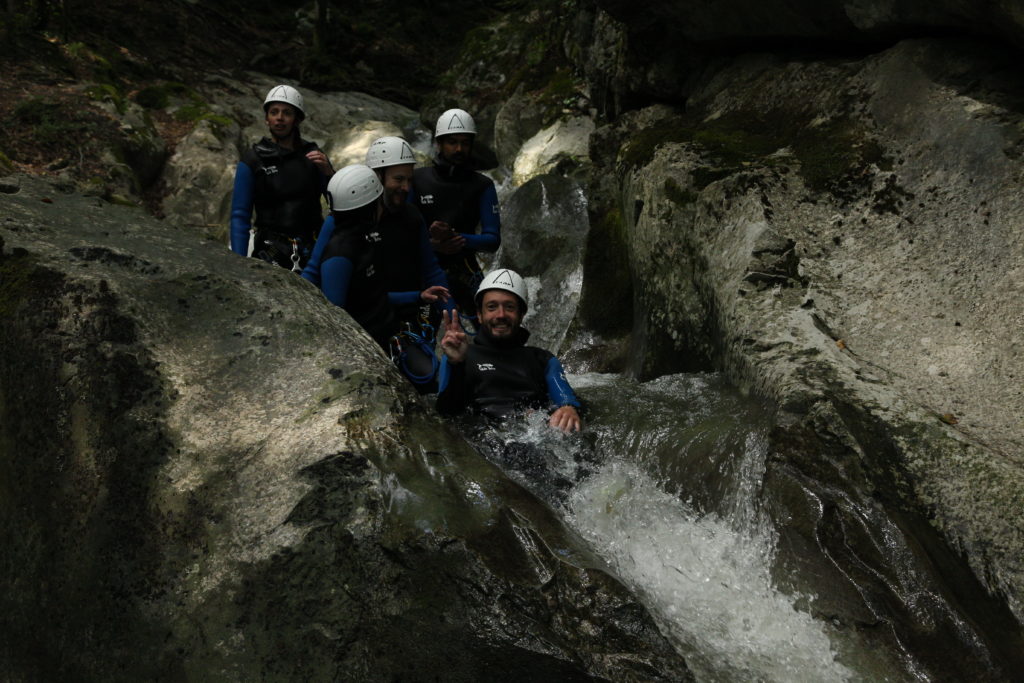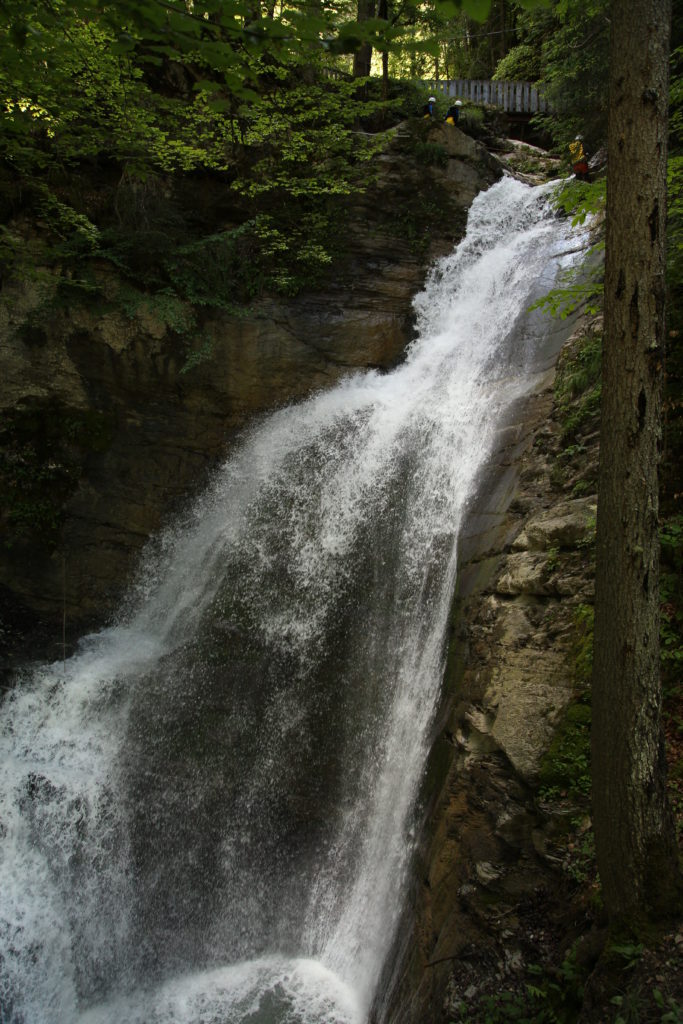 Different obstacles join fluidly in the verdant and bucolic setting. This canyon route is easily modified to the level of each group and each participant, from the youngest to the oldest, the most to the least sporty will find fun and adventure! This is the ideal canyon in the Chablais for discovering this great sport, breathing the fresh air of the mountains and to share great memories.
Manu's Opinion
The meeting point :
From Morzine, take direction 'vallée de la manche / lac des mines d'or'. Relatively soon after, take a right fork downwards toward 'Téléphérique de Nyon.
Park in the Télécabine car park.
WHAT TO BRING :
A swimsuit
Sport style trainers - these will go in the water (not beach shoes)
A hair elastic - for tying back long hair
A change of clothes
WHAT'S PROVIDED?
A 5mm neoprene wetsuit in 2 parts
A pair of 5mm neoprene socks
A helmet
A harness
Une expérience inoubliable Une équipe au top, avec un guide extraordinaire qui met directement tout le monde à l'aise et qui sait ce qui fait, on se sent en sécurité. C'est une expérience incroyable. Je recommande à 100% Youcanyon avec le moniteur Manu. Chloé (Célia aha)
An awesome experience I can't recommend Youcanyon highly enough. We did the Nyon Canyon. There was plenty of slides, abseils, rappelling and jumps. It was a beautiful canyon too. There are 'easy routes' around some of the more challenging obstacles if needed. We did this with children aged 11 and 13. They had an absolute blast and wanted to go around again!!!Manu our guide was fabulous. He was careful to make sure we had full explanations in English as most of our group were french speakers. He was fun and funny but professional and safe at all times. The equipment we were given was great, clean and well maintained.There is the most wonder surprise at the start of this canyon but I won't spoil it, go and find out for yourself!!! 😁
Travellingnashes
2022-08-16
Sensationnel Tout est au top.Les premiers contacts pour les informations et la réservation sont très précis et agréables.Manu, dès le démarrage, sait vous mettre à l'aise. Les équipements sont tops.La descente de la gorge de Nyon est vraiment intéressantes. Juste ce qu'il faut de sensations fortes, de belles surprises. Nous sommes une famille de 6 avec des enfants de 12 à 17 ans, clairement tout le monde y trouve son compte.Manu par son naturel tranquille et rassurant a su emmener tout le monde à se dépasser.Descentes en rappel, toboggans, sauts, tout y est pour prendre son pied...Un grand merci à toute l'équipe pour cette très belle demie journée.
Nyon Canyon canyoning with Manu - absolutely brilliant day out! Wish I could give more than 5 stars! What a brilliant experience! We have done canyoning before but this was by far the best trip we have done. Manu was a fantastic guide. He put us together with another British group with similar age children which was really thoughtful. He is obviously super experienced and made sure everyone had a great time whilst being challenged but staying safe. Manu has a great sense of humour and put all the group at ease too, even when some were a bit nervous. We did the Nyon canyon trip and I would thoroughly recommend it. Will definitely be back - thank you so much Manu!
Best Canyoning adventure Manu is an absolutely excellent guide for an amazing, challenging but acheivable adventure.We had a great time right from the special surprise at the start - I won't spoil the surprise but it sets the tone for a high adrenaline trip. My son and I have both been on similar before but this trip was the best by quite a long wayManu was careful to make sure everyone had a good time and was challenged within their limits All of the arrangements were easy and the kit provided was great.It's a really good way to pass a few refreshing hours out of the heat
Une très belle expérience Un excellent moment en compagnie d'un guide (Manu) très professionnel, bienveillant et à l'écoute. Un parcours accessible et diversifié.Je recommande chaleureusement
Une superbe aventure au Canyon de Nyon ! Nous sommes venus au Canyon de Nyon car nous voulions découvrir ce parcours de canyoning complet et sportif. Pendant la canicule, cette activité aquatique était là bienvenue. Accompagnés de Manu, un guide rassurant et avec un très bon sens de l'humour, ce fut une expérience inoubliable. À recommander très vivement.
Excellent Une expérience géniale avec un guide très sympathique qui prend le temps d'expliquer correctement et de rajouter des touches d'humour.Manu est à conseiller à n'importe quelle personne qui voudra essayer le canyoning.
Fantastic canyoning experience Manu and his partner (sorry didn't get her name ) were fantastic. Manu made everyone feel safe whilst making sure we all had loads of fun. The Nyon canyon is really great with some exciting drops and a large waterfall rappel to finish. I have done this canyon before with another company but this time with Manu was really special.Thank you both very much for a really great trip.A+John
Idéal ! Expérience géniale dans le canyon de Nyon, avec de la beauté, du divertissement, du sport, le tout sublimé par la personnalité solaire de Manu, le guide.
Génialissime, Manu un guide génial qui est motivé et passionné !! On recommande à 300% Merci pour cette expérience 🤩
Par ou commencer ? Manu est un guide juste parfait ! Bienveillant, à l'écoute, drôle et sympa! On a passé une superbe après midi ! Nous n'avions jamais fais de canyoning, c'était une première et quelle réussite ! Sensation dès les début, nous avons des étoiles pleins les yeux ! Encore merci à toi. Justine et Corentin
This was our first time canyoning, we were a group of 6 men, from age 15-53, and we all had a fantastic time. Manu has just the right balance of convincing you to do things you might hesitate to do (jumping into a small pool from 6-8 meters, or sliding with the flow of the water for a free fall), and being very patient and nice. Highly recommended.
Gil Diesendruck
30/08/2022
Activité recommandé a 100% Nous avons été très bien accueilli par Manu Il nous accompagne dans l'humour et la bonne humeur et ne manque pas de surprises Merci à lui pour ce super moment que nous avons partagé entre amis
Anthony De Oliveira
29/08/2022
Je recommande. Canyon super sympa, tout comme Manu. Nous étions 4 le 17 août à le faire et nous avons passé un super moment. Un grand merci à Manu et à la personne qui nous remonte à notre véhicule à la fin du parcours pour leur sympathie. Bonne continuation !
Super moment passé avec Manu ! Il sait mettre en confiance , agréable et rigolo 😁 Paysages juste grandiose
stanislas diet
26/08/2022
Le canyon n'est pas le plus beau que nous ayons fait c'est clair mais Manu est fantastique, en plus d'être très bon et super sympa, il nous a ramené en voiture à la station. Le top. Un rappel exceptionnel dès le départ à 75m de haut et un toboggan impressionnant, pour le reste c'est très tranquille.
Super expérience avec Manu dans le Canyon de Nyon ! Nous étions huit, en famille. Les surprises sont nombreuses, certaines plus impressionnantes que d'autres, Manu est un super professionnel, plein d'humour, rassurant, à l'écoute et ayant toujours une solution pour les moins téméraires. Nous nous sommes régalés et reviendrons avec plaisir . Merci encore ! Julie
Sortie canyoning très agréable avec 3 adolescents dimanche dernier. Un grand merci à Manu pour son sourire et sa bonne humeur. Bonnes explications tout au long du parcours. Un moniteur qui sait vous mettre en confiance avec toujours une petite pointe d'humour. Un moment très sympathique. Je recommande à 100 % ! 😊
SYLVIE JACQUET
24/08/2022
Une première pour notre groupe de quatre amis! Nous avons passé un excellent moment avec Manu qui s'est montré très professionnel. Nous reviendrons et nous recommandons Manu sans hésitation! A l'année prochaine!!